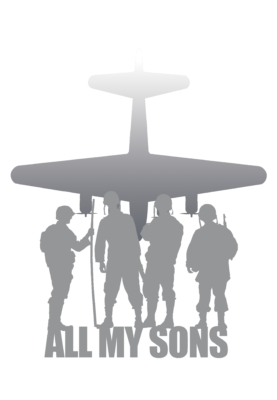 All My Sons
The Harriett Theatre
March 25 - April 19, 2020
How far will a man go to protect his family, his interests and his legacy?
All My Sons
March 26, 2020 – April 19, 2020
by Arthur Miller
All My Sons tells the story of Joe Keller, a successful, middle-aged, self-made man who has done a terrible and tragic thing. He framed his business partner for a crime and engineered his own exoneration. Now, his son is about to marry the partner's daughter, the affair is revisited, and his lie of a life is unraveled. In All My Sons, Arthur Miller creates a post-war American family in a tragic downfall of lies, greed, love, and loss, and demands its audience examine their own social responsibilities to all the sons of American wars.
Tickets: $30 - $42
Key Themes: Greed, loss, family
Age Recommendation: 13+
Run-time: Approx. 2 hrs & 15 min with one intermission
03/25/2020 07:30 PM (Wednesday)
Venue:
Harriett Theatre
Seats Remaining:
132
03/26/2020 07:30 PM (Thursday)
Venue:
Harriett Theatre
Seats Remaining:
142
03/27/2020 07:30 PM (Friday)
Venue:
Harriett Theatre
Seats Remaining:
135
03/28/2020 07:30 PM (Saturday)
Venue:
Harriett Theatre
Seats Remaining:
129
03/29/2020 02:30 PM (Sunday)
Venue:
Harriett Theatre
Seats Remaining:
132
04/02/2020 07:30 PM (Thursday)
Venue:
Harriett Theatre
Seats Remaining:
60
04/03/2020 07:30 PM (Friday)
Venue:
Harriett Theatre
Seats Remaining:
144
04/04/2020 02:30 PM (Saturday)
Venue:
Harriett Theatre
Seats Remaining:
143
04/04/2020 07:30 PM (Saturday)
Venue:
Harriett Theatre
Seats Remaining:
144
04/05/2020 02:30 PM (Sunday)
Venue:
Harriett Theatre
Seats Remaining:
120
04/06/2020 07:30 PM (Monday)
Venue:
Harriett Theatre
Seats Remaining:
136
04/09/2020 07:30 PM (Thursday)
Venue:
Harriett Theatre
Seats Remaining:
142
04/10/2020 07:30 PM (Friday)
Venue:
Harriett Theatre
Seats Remaining:
146
04/11/2020 07:30 PM (Saturday)
Venue:
Harriett Theatre
Seats Remaining:
146
04/12/2020 02:30 PM (Sunday)
Venue:
Harriett Theatre
Seats Remaining:
139
04/13/2020 07:30 PM (Monday)
Venue:
Harriett Theatre
Seats Remaining:
139
04/16/2020 07:30 PM (Thursday)
Venue:
Harriett Theatre
Seats Remaining:
140
04/17/2020 07:30 PM (Friday)
Venue:
Harriett Theatre
Seats Remaining:
145
04/18/2020 07:30 PM (Saturday)
Venue:
Harriett Theatre
Seats Remaining:
146
04/19/2020 02:30 PM (Sunday)
Venue:
Harriett Theatre
Seats Remaining:
130