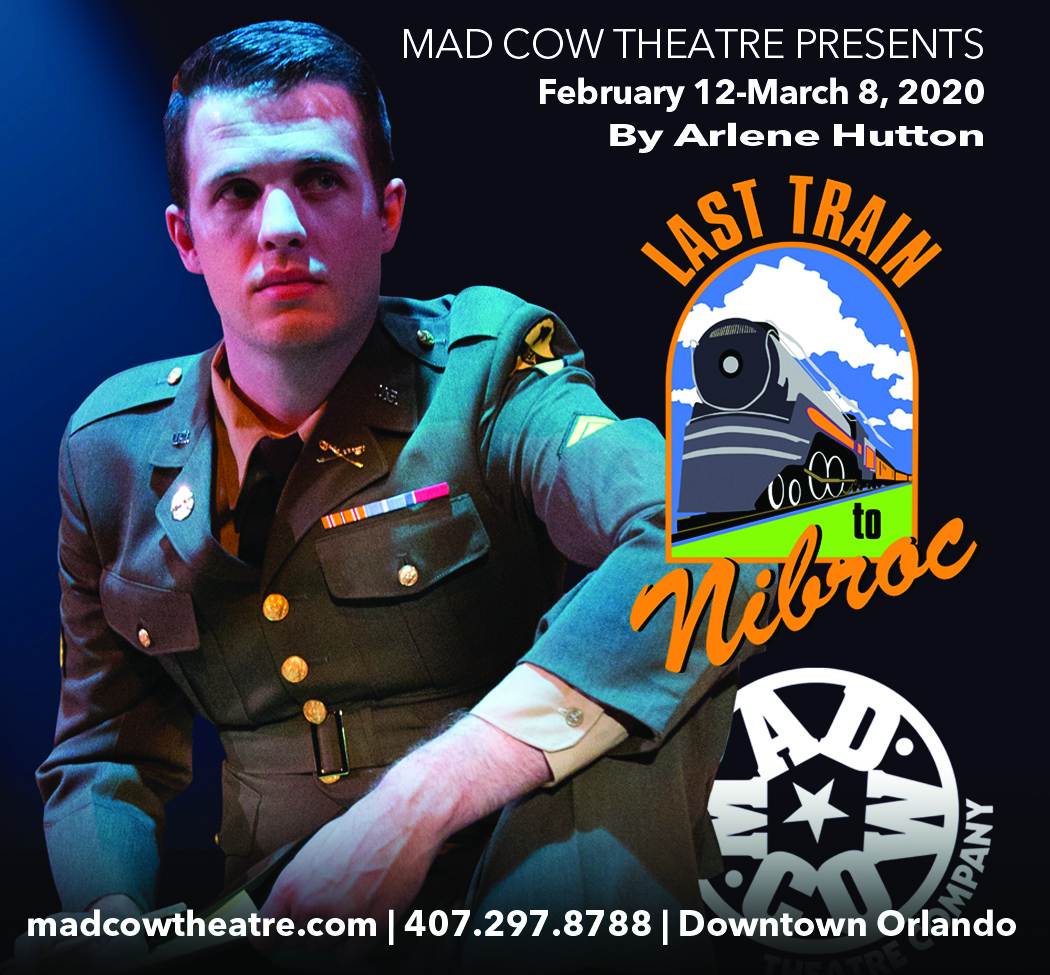 Last Train to Nibroc
The Zehngebot-Stonerock Theatre
February 12 - March 8, 2020
A sweet and intimate love story set against society's global war.
Last Train to Nibroc
February 14, 2020 – March 8, 2020
by Arlene Hutton
Directed by Mark Edward Smith

Last Train to Nibroc is the first in a trilogy of plays by Orlando native, Arlene Hutton. In December 1940, an east-bound cross-country train carries the bodies of the great American writers Nathanael West and F. Scott Fitzgerald. Also on board is May, who shares her seat with charming, young Raleigh. Unable to enlist because of a medical condition, Raleigh wants to be a writer; May wants to be a missionary and they discover they are from neighboring towns in Kentucky. In this boy-meets-girl romance, two young people navigate through the tough times of
a country at war discovering what they have to give up to get what they really want.
Tickets: $30 - $42
Key Themes: Romance, choices, consequences
Age Recommendation: 13+
Run-time: Approx. 90 minutes with no intermission
Meet The Cast
Dalton Hedrick Alexandra Rose Horton
02/22/2020 08:00 PM (Saturday)
Venue:
Zehngebot-Stonerock Theatre
Seats Remaining:
51
02/23/2020 03:00 PM (Sunday)
Venue:
Zehngebot-Stonerock Theatre
Seats Remaining:
1
02/27/2020 08:00 PM (Thursday)
Venue:
Zehngebot-Stonerock Theatre
Seats Remaining:
52
02/28/2020 08:00 PM (Friday)
Venue:
Zehngebot-Stonerock Theatre
Seats Remaining:
52
02/29/2020 08:00 PM (Saturday)
Venue:
Zehngebot-Stonerock Theatre
Seats Remaining:
46
03/01/2020 03:00 PM (Sunday)
Venue:
Zehngebot-Stonerock Theatre
Seats Remaining:
42
03/04/2020 08:00 PM (Wednesday)
Venue:
Zehngebot-Stonerock Theatre
Seats Remaining:
52
03/05/2020 08:00 PM (Thursday)
Venue:
Zehngebot-Stonerock Theatre
Seats Remaining:
48
03/06/2020 08:00 PM (Friday)
Venue:
Zehngebot-Stonerock Theatre
Seats Remaining:
55
03/07/2020 08:00 PM (Saturday)
Venue:
Zehngebot-Stonerock Theatre
Seats Remaining:
52
03/08/2020 03:00 PM (Sunday)
Venue:
Zehngebot-Stonerock Theatre
Seats Remaining:
40