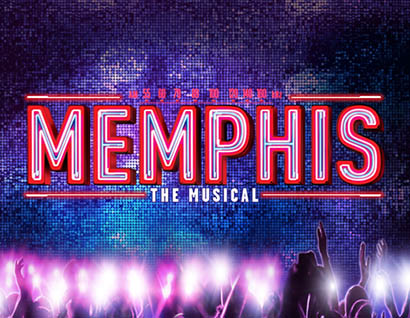 Memphis
The Harriett Theatre
June 3, 2020 - June 28, 2020
Shake, rattle and roll!

Memphis
June 5, 2020 – June 28, 2020
Book and lyrics by Joe DiPietro
Music and lyrics by David Bryan
From the underground dance clubs of 1950's Memphis, Tennessee, comes the Tony and Olivier Award-winning musical that bursts off the stage with explosive dancing, irresistible songs and a thrilling tale of fame and forbidden love. Memphis will take you back to the birthplace of the blues!
Tickets: $30 - $42
Key Themes: Racism, romance, sex
Age Recommendation: 13+ (suggestive language)
Run-time: Approx. 2 hrs & 45 min with one intermission
06/03/2020 07:30 PM (Wednesday)
Venue:
Harriett Theatre
Seats Remaining:
133
06/04/2020 07:30 PM (Thursday)
Venue:
Harriett Theatre
Seats Remaining:
141
06/05/2020 07:30 PM (Friday)
Venue:
Harriett Theatre
Seats Remaining:
133
06/06/2020 07:30 PM (Saturday)
Venue:
Harriett Theatre
Seats Remaining:
131
06/07/2020 02:30 PM (Sunday)
Venue:
Harriett Theatre
Seats Remaining:
119
06/11/2020 07:30 PM (Thursday)
Venue:
Harriett Theatre
Seats Remaining:
132
06/12/2020 07:30 PM (Friday)
Venue:
Harriett Theatre
Seats Remaining:
144
06/13/2020 02:30 PM (Saturday)
Venue:
Harriett Theatre
Seats Remaining:
146
06/13/2020 07:30 PM (Saturday)
Venue:
Harriett Theatre
Seats Remaining:
136
06/14/2020 02:30 PM (Sunday)
Venue:
Harriett Theatre
Seats Remaining:
124
06/15/2020 07:30 PM (Monday)
Venue:
Harriett Theatre
Seats Remaining:
131
06/18/2020 07:30 PM (Thursday)
Venue:
Harriett Theatre
Seats Remaining:
144
06/19/2020 07:30 PM (Friday)
Venue:
Harriett Theatre
Seats Remaining:
166
06/20/2020 07:30 PM (Saturday)
Venue:
Harriett Theatre
Seats Remaining:
140
06/21/2020 02:30 PM (Sunday)
Venue:
Harriett Theatre
Seats Remaining:
141
06/22/2020 07:30 PM (Monday)
Venue:
Harriett Theatre
Seats Remaining:
141
06/25/2020 07:30 PM (Thursday)
Venue:
Harriett Theatre
Seats Remaining:
146
06/26/2020 07:30 PM (Friday)
Venue:
Harriett Theatre
Seats Remaining:
148
06/27/2020 07:30 PM (Saturday)
Venue:
Harriett Theatre
Seats Remaining:
146
06/28/2020 02:30 PM (Sunday)
Venue:
Harriett Theatre
Seats Remaining:
140